PRESS
For Immediate Release
January 24, 2005
Harrington Public Relation
Sabrina Bassman
310-451-1220
Schwartz & Co has record year with Spike-TV, USA Network, The Playboy Channel, Comedy Central and key DVD distributors.

Bill Schwartz, CEO of Santa Monica based Schwartz & Company, Inc., a distributor and producer of "event-oriented" programming, confirms recent broadcast and video agreements for a wide range of exclusive high-profile programs. Spike-TV acquired "Sam Kinison: Breaking The Rules" special originally produced for HBO while the Playboy Channel acquired "Brother Sam: A Tribute to Sam Kinison. USA's Trio Entertainment licensed "The Lenny Bruce Performance Film" while Comedy Central agreed to produce a pilot episode of "The Wide World of Wrestling" in which Schwartz, representing the American Wrestling Association library, reformatted rare footage of Jesse Ventura, Hulk Hogan, Andre the Giant and others.

Over Christmas Schwartz acquired the worldwide rights to three CBS "Puff the Magic Dragon" animated specials, "Dorothy In The Land of Oz" and "Peter and the Magic Egg" animated specials; all written by Romeo Muller; famed writer of "Rudolph the Red Nosed Reindeer", "Frosty the Snow Man" and many other award-winning family films. Schwartz also acquired worldwide rights to fifteen newly colorized feature films, including "Reefer Madness", "Three Stooges", "Night of the Living Dead", Sherlock Holmes features and many other titles.

Schwartz & Co, who maintains direct relationships with all Pay-Per-View platforms, including In-Demand, Directv, Echo Star and TVN, successfully licensed "The Best of the Tom Green Show", three Sam Kinison comedy concerts and a comedy special by Saturday Night Live star Jim Breuer, to mention a few of the agreements.

With DVD revenue an absolute necessity for producers and broadcasters and with Schwartz having close to twenty years directly involved in maximizing the value of broadcast programming through DVD exploitation, Schwartz scored a number of key DVD agreements including be instrumental for the North American video release of famed comedy series from Canada; SCTV. Schwartz also produce and directed the award-winning documentary; "Howard Hughes: The Real Aviator" and licensed the worldwide television and international rights to Rigel Entertainment and sold the North American video rights to The Shout Factory. Schwartz also licensed Lions Gate Entertainment the domestic video rights to the classic animated feature "The Singing Princess", which stars the voice of Academy Award winner Julie Andrews. Monterey Video acquired the exclusive rights to one of John Ritter's last films; "Man of the Year" and Geneon Entertainment acquired two Sam Kinison television specials; "Outlaws of Comedy" and "Brother Sam: A Tribute to Sam Kinison"; both which have never been released on DVD in North America. Schwartz was responsible for UAV Entertainment also acquiring the exclusive DVD rights to "Sounder", "Misty", "Mary White" and "Dog of Flanders"; which have sold over two million units.

Schwartz is marking his 15th year attending NAPTE and feels that it's mandatory to attend, meet and greet the executives in the broadcast community.

Contact: Bill Schwartz, CEO Schwartz & Company, Inc. 1223 Wilshire Blvd., Suite 283, Santa Monica, CA 90403. Tel: 310-394-8227 E-Mail: Bill@schwartzcompany.com.
---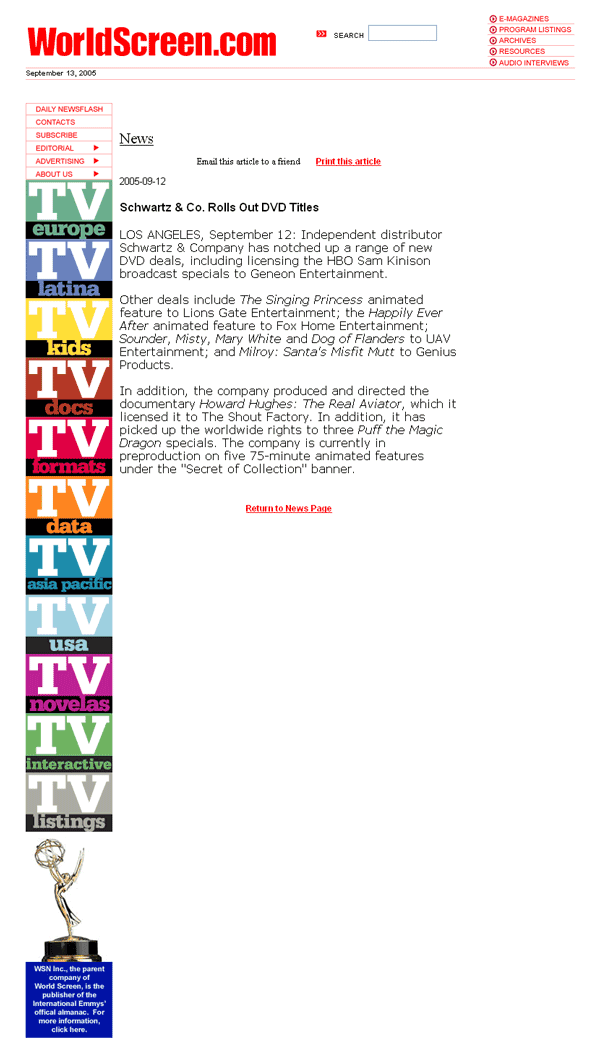 ---